New to SuperFood?
SuperFood Plus and SuperFood 100 were designed by Dr. Schulze to give you the most complete, natural, and powerful daily nutrition available anywhere. Whether you need an energy boost, want to get healthy, or look and feel younger, these SuperFoods are the key.
Dr. Schulze created this product to save his own life and gave it to every patient that entered his clinic. There is simply no better way to experience powerful nutrition blasting through your body. Conveniently available as
Tablets and Powder

Shop Now

SuperFood 100 was designed to get you the NUTRITION you need and the ENERGY you want, using only herbs and foods. Clean and vegan, it will supply 100% (or more) of your major vitamins, plus 1208% of your Vitamin B12 for energy, in just three tablets per day.

Shop Now
Sign Up For
Dr. Schulze's
SuperFood-A-Month Club
Give your body the ultimate nutrition it needs every month, with FREE SHIPPING
Learn More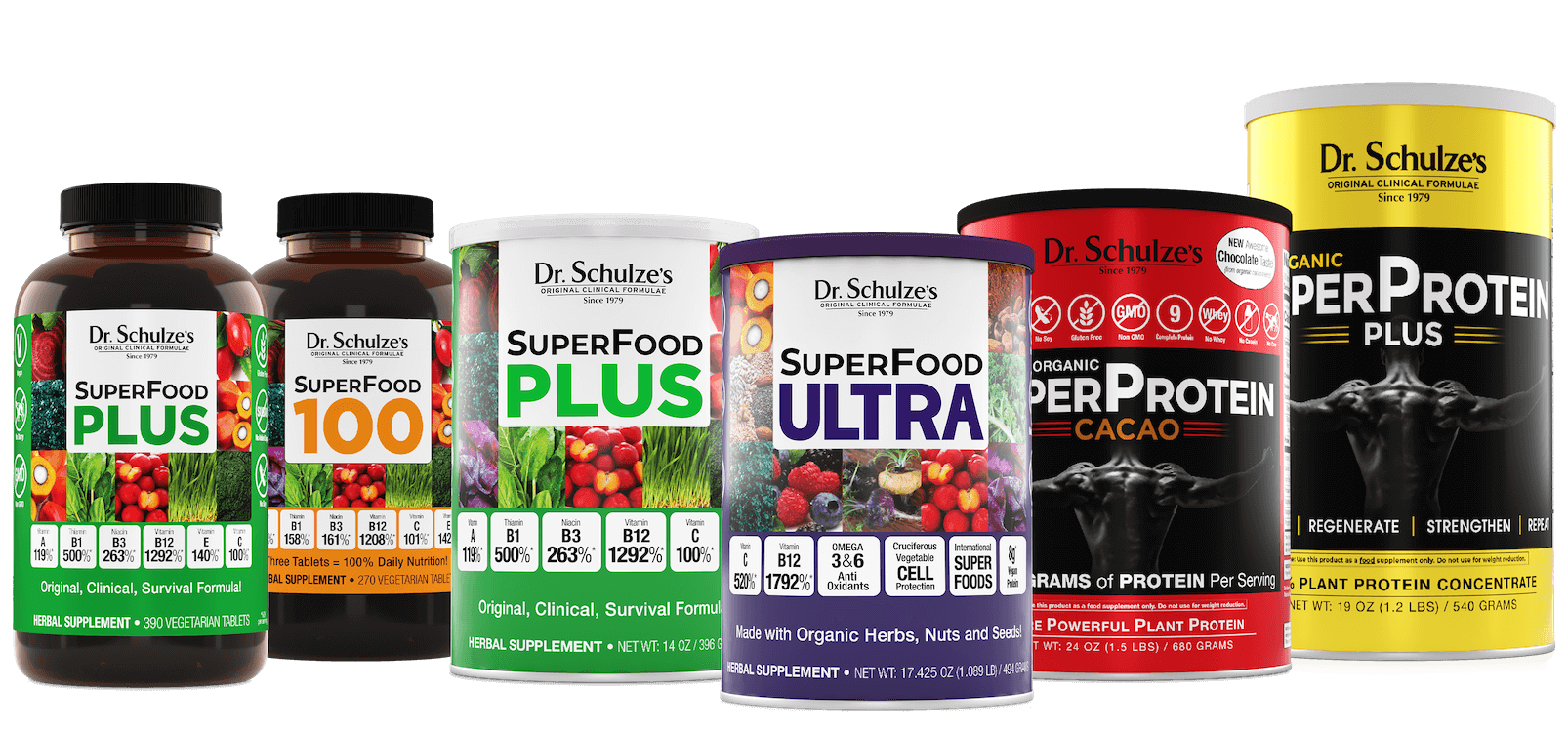 The
World's Most Powerful SuperFoods
It's not how much you take. It's about getting extremely pure and high-quality nutrition into your blood, where you need it. Dr. Schulze's SuperFood formulations are designed to deliver powerful nutrition that assimilates into your body quickly.
Blue Green Algae

Vitamin Blue! We use the only one in the world certified Organic.

Wheat Grass

A powerful detoxifier used in almost every alternative clinic I have visited.

Purple Dulse Seaweed

Rich sources of digestible, assimilable, and usable minerals.

Acerola Cherries

The concentrated natural source of Vitamin C.

Rose Hips

Powerful source of Vitamin-C, bioflavonoids, and rutin.

Chlorella (Broken-Cell) Algae

38 times more protein than soybeans!

Beetroot

Helps to regenerate and reactivate red blood cells.

Lemon & Orange Peels

Real, natural, Vitamin-C Complex. Not chemicals.

Spirulina

70%-80% protein and one of the richest sources of betacarotene.

Saccharomyces Cerevisiae NonFermentable Nutritional Yeast

For a powerful energy and circulation blast.

Alfalfa

Contains almost every vitamin and mineral known! An amazing food for building muscle.

Spinach Leaf

With Beetroot, spinach floods your blood with concentrated nutrition.

Palm Fruit

Non-toxic, this is one of the richest sources of Vitamin E.

Barley Grass

A tremendous amount of mineral nutrients that your body can easily assimilate.